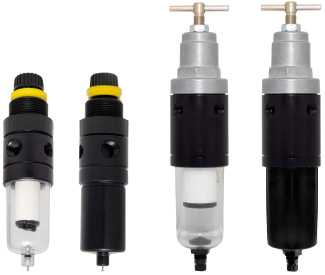 United Filtration's integral filter regulators (FR) are ideal for applications where space is limited, and clean regulated air is a must. This compact piggyback design provides high efficiency filtration and accurate air pressure to instruments, valves, and other pneumatic equipment. Our high efficiency coalescing element protects the regulator from contaminants for worry free service. Each filter regulator is supplied with a gauge and regulator ranges available are 0-30, 5-60, & 10-130 PSIG. Our filter regulator series is offered in three different sizes, with multiple port sizes available including 1/8" FNPT, 1/4" FNPT and 1/2" FNPT.
Units come standard with a manual twist drain, but an automatic float drain is an available accessory. Each FR (filter regulator) is supplied with our high efficiency bonded microfiber filter element rated for removal of 0.01 micron particulates and aerosols. Sintered Polyethylene filter elements with 10, 25 and 75 micron efficiencies are available upon request and typically specified where bulk contaminates are the issue.
For more details please feel free to contact our sales team at (586) 802-5561 or email Dirk Loveland (dirk@unitedfiltration.com), or Aaron Garvin (aaron@unitedfiltration.com).