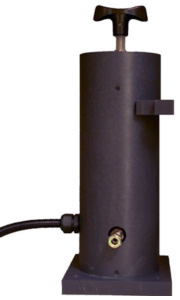 United Filtration Systems offers a full line of heated filter assemblies for your emissions monitoring, stack gas sampling, and chemical analysis equipment. The key to our heated filter modules is the heating element, which is machine woven into a silicone jacket and then wrapped on to the filter body.
The automated weaving provides precise consistency eliminating "cold spots" which typically occurs with hand wrapped units. Our heated filter assemblies are offered with either J-Type or K-Type thermocouple, utilize industry size filter cartridges, and are offered in 3 different sizes to meet customer requirements. Unlike our competitors heated filter assemblies which use a threaded handle connection, United Filtration Systems heated filter assemblies use a 1/4 turn bayonet design handle, allowing for effortless installation and removal of the handle assembly.
Since the handle does not thread into the housing body there is no need to worry about the galling of threads over time due to dramatic temperature changes. The absence of threads removes the threat of galling which can lead to permanent seizing. Digital bench top temperature controllers are available as well.
Our Heated Filter Assemblies are superior alternates to Unique Heated Filters, Neptech Heated Filters, and Conrad Heated Filter. Each module is built to order, tested, and typically ships within a week of receipt, meaning you will be testing in no time!
For more details please feel free to contact our sales team at (586) 802-5561 or email Dirk Loveland (dirk@unitedfiltration.com), or Aaron Garvin (aaron@unitedfiltration.com).