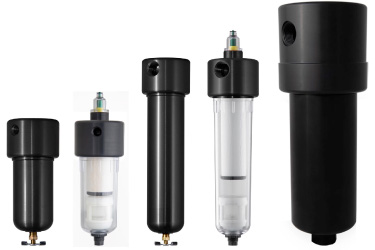 United Filtration offers several types of filter assembly's ideal for an instrument air supply applications.  We offer a full line of inline T-Style aluminum filter assembly's, as well as integral filter regulators. The heart of both of these units is the bonded glass microfiber coalescing filter element which provides superior protection down to 0.01 micron. 
Our aluminum 300 series is offered in a variety of sizes with ports ranging from 1/8" to 2" FNPT available with either an aluminum bowl or clear polycarbonate bowl for optimal visual inspection.  Once again, all units are supplied with a high-efficiency coalescing filter element rated at 0.01 micron removal.  With a variety of options offered, the 300 series can be used in laboratory/analytical environments, as well as rugged outdoor service, or, where ever clean dry instrument air is required.
Most Instrument Air applications are at relatively low pressure, so our 300 series is ideal for the job.  However, any of our T-Type housings fitted with a coalescing filter element may be utilized for "instrument air" service.  Filters should be placed as close to the application as possible to insure complete protection.
In some instrument air applications, a membrane dryer is used where lowering the dew point is required. An example could be providing instrument air to an outdoor air-conditioned analyzer shed in a southern climate.
Please contact our technical team at (586) 802-5561 or email Dirk Loveland (dirk@unitedfiltration.com), Aaron Garvin (aaron@unitedfiltration.com), or Dan Heath (dan@unitedfiltration.com).