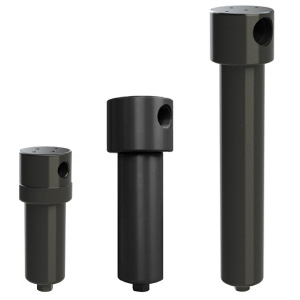 Compressor stations are an integral part of the natural gas transport system since these stations move the gas to market through the pipeline network. These are typically spread 40 to 60 miles apart and compress natural gas to move it through the pipelines to the final destination.
Most stations use either a Turbine/Centrifugal Compressor or a Reciprocating Engine Compressor to compress the natural gas. Each type of compressor uses a small amount of gas to fuel the compressor which is referred to as "Fuel Gas".
Although pipeline gas is considered dry it still needs to go through a series of filters and scrubbers. Each compressor requires a high efficiency coalescing filter to clean up the "Fuel Gas" so it does not foul the engine. Our borosilicate microfiber elements have a 20 plus year track record of working in trying environments and protecting compressors.
United Filtration offers a complete line of "Fuel Gas" filters to remove up to 99.99% of liquids/solids. Our 300 Series Anodized Aluminum filters are ideal for this application with pressure ratings up 1,500 PSIG.
We have a full range of product with Canadian Registration Numbers (CRN).
Please contact our technical team at (586) 802-5561 or email Dirk Loveland (dirk@unitedfiltration.com), or Aaron Garvin (aaron@unitedfiltration.com).