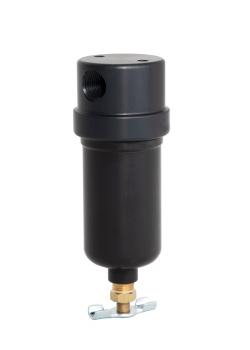 Headline's miniature coalescing filters are an excellent choice for instrumentation and general air/gas "point of use" filtration applications. These filters provide excellent coalescing protection for instrumentation, valves, and regulators. They are an ideal choice for OEMs because of their robust construction and low cost.
Being 100% machined aluminum, Headline Filters' assemblies provide a distinct advantage over our competitors cast housings. And if that's not enough, the clear polycarbonate bowl model 315 and aluminum bowl 315A are offered in an extended length for twice the surface area and element life (315L, 315AL). The polycarbonate version offers the customer visual access to the element allowing for easy monitoring. While the anodized aluminum bowl gives the end user the same reliable filtration in higher pressure (500 PSIG) and temperature applications.
If you are using a Parker Finite® Q1S, Q5S, H1S or H5S or Balston® A93, A94, A93A, or A94A then the time is now to upgrade your system and reduce your costs. When compared to our competition not only do our products meet or exceed quality expectations, but our aggressive pricing makes Headline Filters a no brainer when you are looking for a high performance product at a reasonable price point.
For more details please feel free to contact our sales team at (586) 802-5561 or email Dirk Loveland (dirk@unitedfiltration.com), or Aaron Garvin (aaron@unitedfiltration.com).