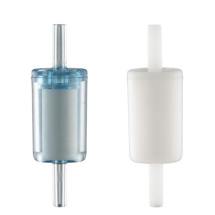 Need an alternative to a Balston® 9933-05-BQ or a Finite® IDN-6G; our Model DIF-BN50 is the answer!
Our Disposable Inline Filters, also known as DIF's, are great alternatives to the Balston® DFU Series or the Finite® IDN Series. DIF's are ideal for many analytical/instrumentation systems from environmental monitoring to portable gas detection units and more. They are an inexpensive light weight solution for high-efficiency filtration requirements. The DIF's are the final line of defense in an instrument system, and the nylon version offers easy monitoring of particles with its clear see through body. The DIF-BK version is white in color indicating its pure virgin material, unlike the blue dyed Balston® 9922-05-BQ. This is ideal for corrosive service.
Standard DIF's consist of our bonded microfiber filter element rated at 0.01 micron encased in a permanently welded plastic body. Additional filter elements such as sintered polyethylene or stainless steel screens are available as well.
We offer various sizes of DIF's in both Nylon and PDVF (Kynar) body construction. Standard connection sizes are ¼" tube stubs, ½" tube stubs, or ¼" MNPT.
For more details please feel free to contact our sales team at (586) 802-5561 or email Dirk Loveland (dirk@unitedfiltration.com), or Aaron Garvin (aaron@unitedfiltration.com).