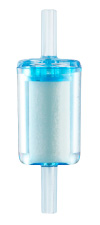 What do the three terms represent:
DIF = Disposable In-Line Filter
DFU = Disposable Filter Unit
IDN = In-Line Disposable
Essentially, each designation vary by manufacturer.  Regardless, of the term, they all mean a small point of use completely encapsulated filter (typically a nylon body) with a disposable microfiber element ultrasonically welded inside with tube type connections.
Balston Cross Reference Chart
Finite Cross Reference Chart
For more information please call (586) 802-5561 or email dirk@unitedfiltration.com.