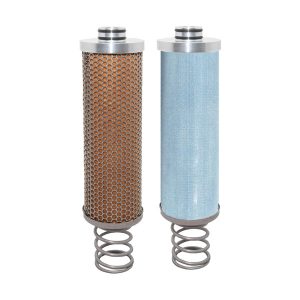 Our positive seal spring loaded elements were born from the need to provide high efficiency filtration in compressed gas systems with substantial vibration and/or high pressure swings during start up. The "SL" elements have a stainless steel helix welded to base to ensure a stable fit, while a double O-Ring provides a leak tight seal for peace of mind filtration.
Many of our "SL" elements come with a final stainless steel outer mesh element for a completely encapsulated particulate or coalescing filter – ultimate reliability that has been field tested. These are available across our product line, and we also produce retro-fit kits for propriety brands.
Please contact our technical team at (586) 802-5561 or email Dirk Loveland (dirk@unitedfiltration.com), or Aaron Garvin (aaron@unitedfiltration.com).