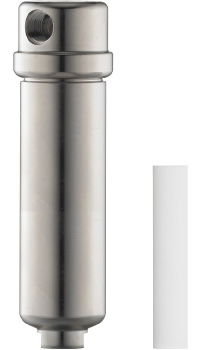 We are often asked to supply alternative products. One customer needed a housing similar to the Fisher 252 but with a higher working pressure. The Fisher 252 is rated at 2,150 psig (190 bar) and we offered an extended version of our 122 series filter housing called the 122LB-PVF series. This housing uses the same size filter element as the Fisher type and can be used as a direct replacement.
The 122LB-PVF is designed specifically for pilot-operated pressure regulator applications and is ideal for high pressure compressed gas and pneumatic filtration. Like the Fisher 252 our 122LB-PVF series is able to clean the supply of gas and air before it enters the pilot of a pilot-operated pressure regulator.
Our assembly and filter elements provide a massive cost savings over the Fisher. By offering a higher pressure rating, a smaller footprint and a variety of elements with superior efficiencies the 122LB-PVF is an excellent upgrade to the Fisher 252 Series. Plus, the elements are completely interchangeable between the two assemblies. We also offer a 122LB-PVF with a 1/8" FNPT top head port which makes installation on some systems easier. This unit is designated as 122LBTP-PVF.
For more details please feel free to contact our sales team at (586) 802-5561 or email Dirk Loveland (dirk@unitedfiltration.com), or Aaron Garvin (aaron@unitedfiltration.com).