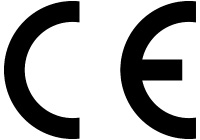 The CE mark is a mandatory conformity marking for certain products sold within the European Economic Area (EEA) since 1985. The CE mark is a recognized standard throughout the world. This mark may be found on products sold outside the EEA that are manufactured in Europe. Headline Products are CE compliant. The Mark itself "CE" is an abbreviation of a French phrase "Conformite Europeene" which literally means European Conformity. This Directive applies to the design, manufacture and conformity assessment of pressure equipment and assemblies with a maximum allowable pressure PS greater than 0.5 bar as well as other factors including but not limited to volume, purpose, and contact with hazardous materials. All Headline products conform to CE standards where required.
Pressure Equipment Directive – Module B
Pressure Equipment Directive – Module D
CE Marking on a product ensures the free movement of a product within the EFTA & European Union.
For information around a specific product please contact our technical team at (586) 802-5561 or email Dirk Loveland (dirk@unitedfiltration.com), or Aaron Garvin (aaron@unitedfiltration.com).