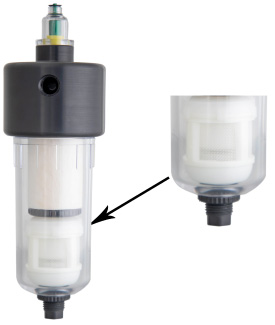 Automatic float drains are a simple cost effective way to evacuate liquids from a filter vessel. As of now we offer one basic unit which can be installed in our 300 series aluminum filter assembles. This float drain should only be used in compressed air or with inert gases, and should be properly piped to not drain onto equipment or the surrounding environment.
A few limitations of this auto drain are:
Must have at least 15 PSIG of constant air pressure
Top limit of the drain is 250 PSIG
Should only be used where the drain will open on a regular basis
Must be installed with the filter in a vertical position.
Best if used in ambient temperature conditions
Cannot be used under vacuum
Even with these limitations the auto float drain is a simple and reliable mechanism as long as it is properly maintained. A small flat head screw driver can be used to press a pin at the bottom of the inside exterior nipple of the drain to manually evacuate the filter vessel. Be careful…while the filter is under pressure.
A 1/8" FNPT thread is also part of the exterior drain nipple which allows a drain line to be attached and carry away liquids.
For more information please call (586) 802-5561 or email dirk@unitedfiltration.com.