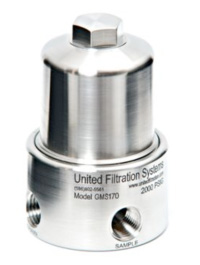 United Filtration Systems offers a complete line of economical, user friendly membrane designs to remove 100% of entrained liquids. The "No tool" design of our assemblies makes membrane service a snap.
Our newly introduced GMS170 membrane with integral coalescing filter element builds on our tradition of providing compact, easy to service separators. The coalescing cartridge removes 99+% of liquids allowing the membrane to polish off any trace fluids. In addition the filter cartridge protects the membrane from any damaging particles.
UFS supplies industry standard membranes which interchange with both Balston and Genie A+ Corporation. We simply provide the best service and pricing along with off the shelf deliveries.
Give us a try on your most demanding application!
Guardian Membrane Separators – GMS170
For more details please feel free to contact our sales team at (586) 802-5561 or email Dirk Loveland (dirk@unitedfiltration.com), or Aaron Garvin (aaron@unitedfiltration.com).