Stainless Steel Model
GMS050
GMS100
GMS105-1/8"
GMS105-1/4"
Port Size (NPT)
1/8"
1/4"
1/8"
1/4"
Drain & Sample Port (NPT)
1/8"
1/4"
1/8"
1/4"
Maximum Pressure (psig)
1500
1500
1500
1500
Internal Volume (cc)
In Sample Chamber (Behind Membrane)
1.5
3
3.96
3.96
Weight of Housing (lbs)
0.5
1.5
2.0
2.0
Principle Dimensions: (inches)
Center of Port to Back
0.28
N/A
0.39
0.39
Body Diameter
1.50
1.97
2.48
2.48
Body Depth
1.29
2.01
1.83
1.83
Space Required to Remove Cap
0.79
1.38
0.87
0.87
Maximum Temp. (300ºF)
Standard Viton O-Ring
GVGMS050
GVGMS100
GVGMS105
GVGMS105
PTFE Membrane Code (1)
**Specify: M1 (Low Flow) or M2 (High Flow)
MT.19.xG
MT.33.xHG
MT.33.xHG
MT.33.xHG
Drawing
**For More Detail & Options**
GMS050
GMS100
GMS105-1/8"
GMS105-1/4"
PTFE Model
Max. Pressure: 100 PSIG, Maximum Temp: 250ºF
n/a
n/a
GMS105P-1/8"
GMS105P-1/4"
Notes: (1) Replace the "x" with the flow required. i.e. MT.19.M1G, MT.33.M2HG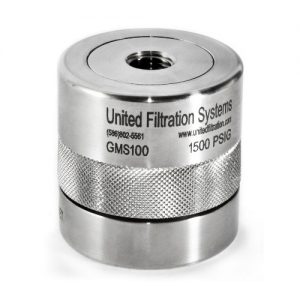 Small Footprint – GMS100
The GMS100 assembly uses a straight through flow path with an inlet port and drain sharing the same plane. The clean sample is on the opposite plane thus increasing efficiency and minimizing flooding. A simple collar holds the two sides (planes) of the assembly together. This user-friendly design still allows the operator to service the housing without breaking any connections. This compact design is ideal for small footprint environments and allows the membrane to be mounted vertically (as pictured) or horizontally.