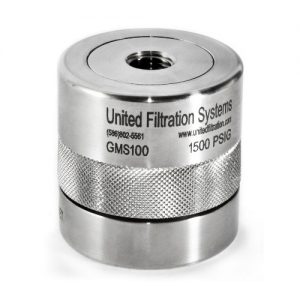 United Filtration/Headline Filters offers a direct replacement for the Genie® model 101 membrane separator. Our model GMS100 is a direct replacement and will remove 100% of entrained liquid and particulate in gas sample applications. The beauty of this separator is that no tools are required to open the housing making service a snap. The uncomplicated collar design provides a compact, inline separator, with an incredibly small footprint, while still utilizing the industry standard one inch diameter membrane.
Protect your on-line analyzers, gas chromatographs, and BTU analyzers from liquid aerosol droplets with our sample conditioning membranes.
We have the largest inventory in the world of sample process/analyzer filtration products.
With our user friendly designs, off the shelf deliveries and superior pricing why shop anywhere else?
Guardian Membrane Separator – GMS100
Genie® Cross Reference Chart
For more details please feel free to contact our sales team at (586) 802-5561 or email Dirk Loveland (dirk@unitedfiltration.com), or Aaron Garvin (aaron@unitedfiltration.com).