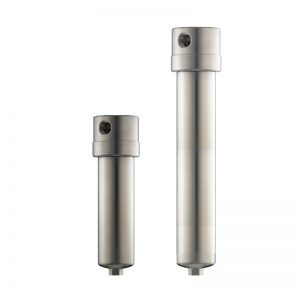 Super-critical CO2 is becoming an important commercial and industrial solvent due to its role in chemical extraction and its low toxicity and environmental impact. Fractional Extraction uses the solvency power of CO2 at different pressures and temperatures to isolate desired oils, waxes and other herbal distillates from a variety of plant species.
Our food grade 316L Stainless Steel Filter housings (130, 140, 150, and 160 series SS Housings) are ideal as traditional filters or as pressure vessels in a variety of Botanical Oil Extraction applications. With pressure ratings from 1500 to 6000 PSI and temperature ranges from -40°F to beyond 400°F our stainless steel filter housings are desirable when maximizing the broad extraction power of CO2 is the goal. In addition our standard housings can be modified to meet specific needs as far as port sizes and other details within reason.
Please contact us for additional information, to quote, or to order.
Our technical team at (586) 802-5561 or email Dirk Loveland (dirk@unitedfiltration.com) or Aaron Garvin (aaron@unitedfiltration.com).