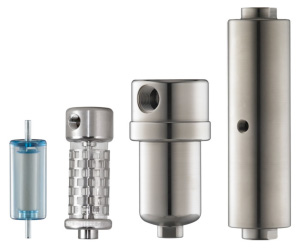 To satisfy an extremely wide range of analyzer sample filter applications, we supply a complete line of filter housings in Stainless Steel, PTFE, Monel, Hastelloy, Nylon, and other corrosive resistant materials. Our choice of high efficiency filter elements for gas and liquid streams allows for the utmost in minimizing pressure drop and service intervals. Our housings are designed with the operator in mind; thus, they are compact, and easy to maintain. If one of our off the shelf products does not meet your specific needs, we can customize them.
Our gas and liquid sample analyzer filters protect gas and liquid analyzers by removing impurities with efficiency ratings up to 99.99+ % at 0.01 micron. Headlines' borosilicate microfiber glass with fluorocarbon resin binder elements are inert to most any gas and liquid, making them a low cost, high efficiency safeguard to sampling systems. Stainless and PTFE elements offered to round out a complete catalog of products.
Please contact our technical team at (586) 802-5561 or email Dirk Loveland (dirk@unitedfiltration.com), or Aaron Garvin (aaron@unitedfiltration.com).