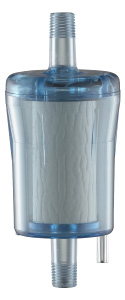 The DIF-LN50C-1/4" is an inexpensive option as a small vacuum pump exhaust filter.  It can be used on a number of pumps where a maximum of 3 SCFM is being vented. 
Keep in mind some pumps may need adaptors for the DIF-LN50C-1/4", but this is common for vacuum applications.
The filter unit is ideal since it has a high efficiency (0.01 micron) microfiber element encapsulated in a clear nylon body.  Tubing can be attached to the drip leg drain to evacuate the collected coalesced oil from a bench top vacuum pump.  It is a nice compact unit, which once spent, can be easily disposed of. 
Also, the DIF-LN50-1/4" and DIF-LN70-1/4" (no drain) are ideal alternatives to end-of-line filtration for environmental monitoring systems. They too use a 0.01 micron fluorocarbon bonded borosilicate filter element, which captures particulate at the sampling point. This is inexpensive, but effective protection for sample line and control system cleanliness.
The DIF-LN housings can also be supplied with our PEL (10, 25, 75 micron) elements or SS screens for effective, low cost liquid filtration.
These items can be shipped immediately from our Sterling Heights office inventory.
For more information please call (586) 802-5561 or email henryk@unitedfiltration.com