Our Stainless Steel elements offer excellent chemical resistance and maximum differential pressure drop ratings. Try them in your most demanding applications.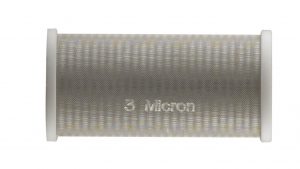 Our Stainless Steel elements are recommended for filtration of heavily contaminated gases, liquids, polymers, and steam, since they are re-cleanable by back-flushing or ultrasonic cleaning. They should also be exclusively used in our Fast Loop Filters, due to the nature of the filter path. Keep in mind that back-flushing and cleaning can only be done for a limited time before the SS elements need to be replaced.
The elements consist of five layers of precision-woven 316L stainless steel mesh formed into cylinders and welded together, along one seam. The five layers offer surface area and depth filtration for removing solids and dropping out liquids. This rigid, durable construction provides precise pore size distribution, flow permeability and lower initial pressure drop than traditional powdered sintered metal elements. As mentioned, the element consists of five layers, with the two outside layers (from both directions) providing pre-filtration, and the inside layer providing the best actual micron rated purification.
Our stainless steel filter elements are made to industry size standards and therefore, fit many other brands of filter housings including Balston® and Finite®.
**Exotic metals including Hastelloy and Monel are also available**
For more details please feel free to contact our sales team at (586) 802-5561 or email Dirk Loveland (dirk@unitedfiltration.com), or Aaron Garvin (aaron@unitedfiltration.com).