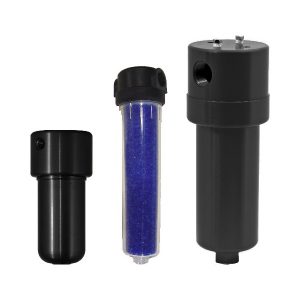 Features
Replaceable Adsorbents
5 Micron Filter Pads Included
Full Contact with Adsorbent
Functional Mini-Dryers
Up to 5,000 PSIG
Applications
High Volume Dryers
Gas Purifiers
Prevent "Freeze Outs"
Valve Actuation
Instrument Air Protection
Our Adsorption Housing Series (ADS) dryer housings are available throughout our product range. Virtually all standard housings can be ordered as ADS housings complete with integral filter pads and desiccant material. The units are an extension of our Disposable In-Line Adsorbers (DIA) and In-Line Columns (IACH/IAAH) assemblies. The ADS series is designed for easy desiccant change-outs, longer life, and more efficient contact time with low pressure drops. A pleated 3 micron post filter is also recommended for complete desiccant dust in critical applications.
Desiccant Types
Silica Gel – We utilize an indicating silica gel which goes from a blue to pink when spent. It provides maximum moisture adsorption and dew points down to -40°F when sized properly. Sight Glasses (denoted STG) are recommended on housings to visually monitor the change in color, and life of the media.
Molecular Sieve – Are crystalline, metallic aluminum silicates. The type 4A offer exceptional water vapor adsorption characteristics. Dewpoints are attainable to -40°F.
Carbon – We utilize coconut carbon which has high fiber content and surface area for added oil vapor adsorption efficiency. Since carbon does not change color, sight glasses are not recommended.
Design
The ADS series utilizes our standard housings with modified internals which allow loose desiccant to fill the bowl. As wet gas flows into the housing, it is directed down a hollow stack to the base of the bowl where it is defused through a 25 micron stainless steel frit. At this point the gas rises through a bed of desiccant and exits through a 5 micron filter pad with a backup disc to reduce the risk of media migration. As the gas/air rises through the desiccant, it is scrubbed of moisture or oil vapor depending on the media.
The ADS housings T-Type design make installation simple and allow pre-filters and post particulate filters to be easily piped in a series utilizing one foot print. Likewise, this blueprint makes servicing the desiccant media simple, fast, convenient, and economical.