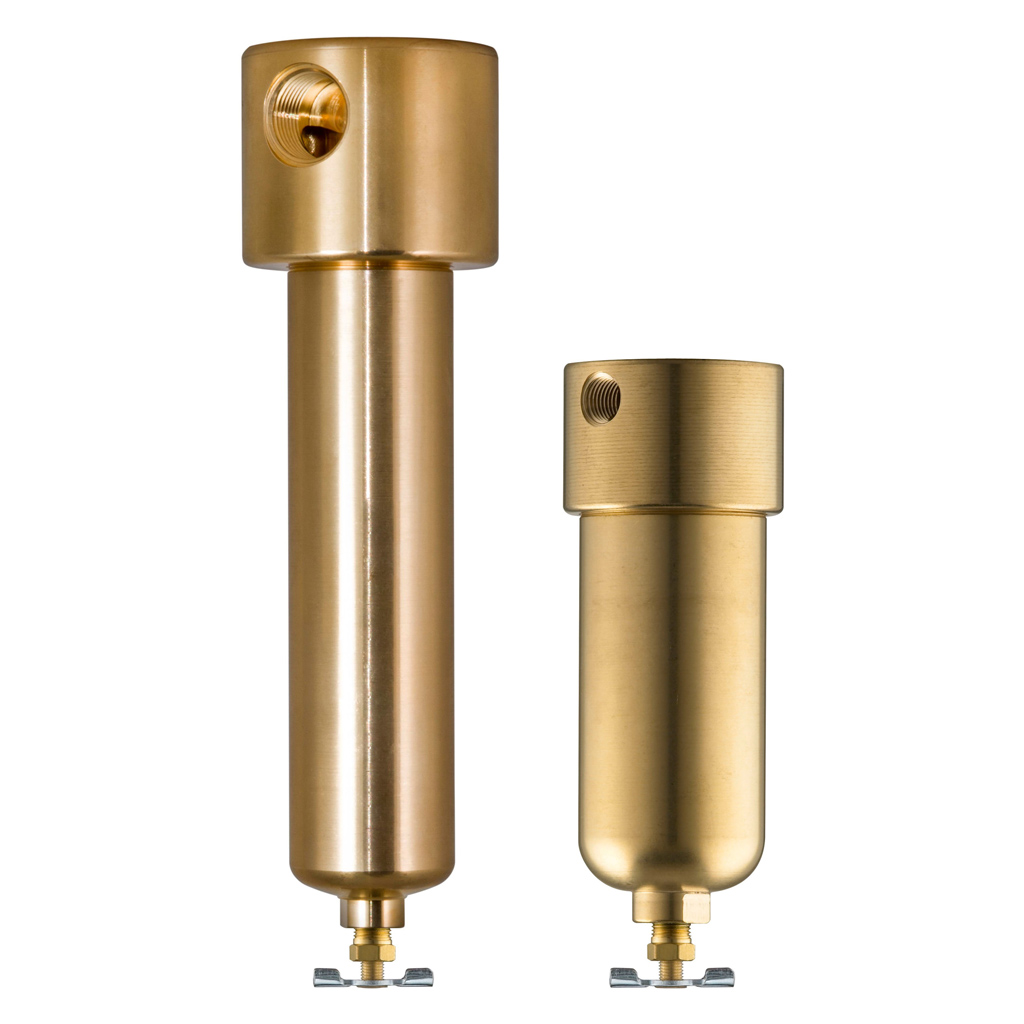 Our standard product line consists of the B360/B370 series constructed entirely of brass, with nylon internals and a Viton O-ring. It is ideal for point of use instrument air filtration. The standard grade 80C element is uniquely suited to remove large volumes of liquid and particulate, while providing excellent flows.
It is ideally suited for point of use instrument air filtration in corrosive (Salt Laiden) atmospheres.
These units come with a standard petcock twist drain and/or optional ABCO drain valve (#H35CJ) is available.
We have the ability to produce any of our standard products in brass and other materials. Simply contact us at 1-800-311-5561 so that we may immediately provide assistance.
If you require brass for oxygen service we can change the internals from nylon to brass and provide a sintered bronze element for compatibility and the elimination of an ignition point. Specify B360-OS or B370-OS for oxygen service which upgrades to Brass Internals.
Features

Brass With Nylon Internals
One Piece Bowl For Easy Service
250 PSIG Rated
High Efficiency Rated At 0.01 Micron
Resistant To Salt Water Atmosphere
Applications

Oxygen Service
For Service In Coastal Areas With Salt Laiden Atmosphere
Off-Shore Instrumentation Service
TECHNICAL INFORMATION
Housing Model
B360-1/4"-80C
B360-1/2"-80C
B370-3/4"-80C
B370-1"-80C
Port Size (NPT)
1/4""
1/2""
3/4"" or 1""
Drain (NPT)
Petcock
Petcock
Petcock
Maximum Pressure (psig)
250
250
250
Maximum Temperature (ºF)
120
120
120
Internal Volume (cc)
150
150
315
Weight of Housing (lbs)
2
2
5.5
Principle Dimensions: (inch)
Center Of Port To Head
0.37
0.536
0.84
Head Diameter
2.22
2.328
2.92
Overall Length
6.22
6.57
10.63
Element Removal Clearance
2.74
2.74
9.25
Coalescing Element (Standard)
25-64-80C
25-64-80C
25-178-80C
Materials Of Construction:
Head & Bowl
Brass
Brass
Brass
Internals
Nylon
Nylon
Nylon
O-Rings (Standard)
Viton
Viton
Viton
Accessories:
Buna-N Seal Set
BNB360
BNB360
BNB360
EPDM Seal Set
GEB360
GEB360
GEB360
Kalrez Seal Set
KZB360
KZB360
KZB360
Viton Seal Set (Standard)
GVB360
GVB360
GVB360
Mounting Bracket
MBSS360
MBSS360
MBSS360
FLOW RATE IN SCFM FOR ABOVE ASSEMBLIES
WITH GRADE 50C, 70C or 80C
Air Line Pressure
B360 Series
B370 Series
(PSIG)
50C
70C
80C
50C
70C
80C
2
3
6
8
6
8
9
15
6
11
13
10
13
15
30
8
16
19
15
19
22
60
13
26
30
25
32
36
100
21
44
48
40
50
56
150
29
58
65
55
68
77
200
42
88
96
80
100
112
250
45
89
99
83
106
116
We offer the same style in Nylon (#760N), PTFE (#130P/132P), Aluminum (#360A) and Stainless Steel (#130/132) to cover all your compatibility and pressure requirements.
At the heart of our filter products is the filter element. Choosing the correct element insures proper results for your specific application:
Disposable Microfiber Elements
Disposable Microfiber Elements are most commonly used since they offer exceptional filtration, high flows with minimal pressure drops, and excellent chemical compatibility. These are ideal for use in sample conditioning, instrumentation, CNG, and Emission/Environmental service.
For Coalescing (liquid removal) and particle collection use our grade "C". We recommend starting with the 80C which is rated at 75% efficient at 0.01 micron which provides outstanding filtration, at high flow rates. For Instrumentation and Off Shore Service.
Off-Shore Instrument Filter
For Oxygen Service – Specify B360-OS or B370-OS For Brass Internals
Bronze Elements For Oxygen Service
Accepts Microfiber, Stainless Steel, PTFE, & PEL Filter Elements